In a competitive fantasy league, most teams are pretty evenly matched; "parity" is the word, although I find "parody" much funnier (but that's just me).
During a typical season, managing a fantasy squad is a very fluid process. Each week, players get hurt, players are on bye, trades are offered (and occasionally executed) and the waiver wire is scoured for the next big thing.
Fantasy rosters are perpetually changing as the season progresses. Everyone is constantly trying to get better.
While owners are always looking for a way to get a leg up on the competition, there is really no "secret weapon" in fantasy football.
But you can come close to a secret weapon if your league allows for a "flex" position.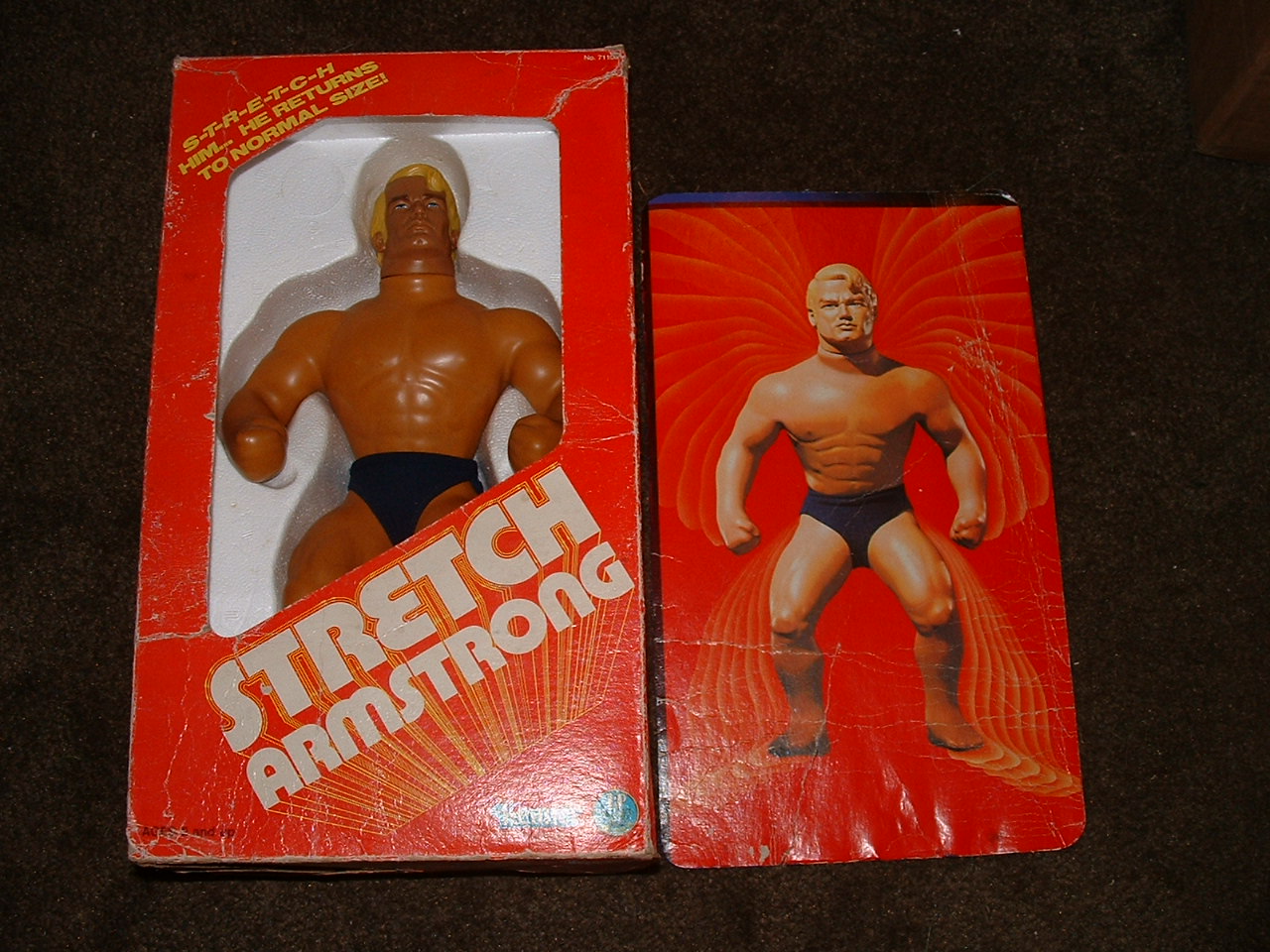 A fantasy football lesson from my childhood past: being flexible like Stretch Armstrong can make you totally awesome.
Over the past decade and a half, as the NFL has become more pass-oriented and running backs have become less productive (expertly outlined by The Lone Pylon staff
right here
), utilizing a flex position has become an increasingly popular option in fantasy leagues.
Today, there are as many flex options as there are fantasy leagues (literally, millions), but a typical roster allows for one or two flex players, usually any combination of RB/WR and, occasionally, TE.

The latest flex alternative gaining popularity is called "super flex," in which two quarterbacks are allowed to be on a starting roster (another nod to the increasingly pass-happy NFL).

But I'm not going to "super flex" on you right now. Let's stick with the basics.
A flex player isn't one who will typically score huge points on a weekly basis; therefore, you will not draft one early (i.e. the first four or five rounds). Like everything in fantasy football, there are exceptions, but once again, let's stick to the basics!
It comes down to this: if you've heard the phrase "fantasy championships are won in the middle rounds," this is what we're talking about. As the guts of the draft approach: rounds 8, 9, 10... this is where you start looking for flex gems.
And this is where homework and preparation pay off.

This is where fun starts.
As I compile my own draft list, I pay specific attention to possible flex options -- my "secret weapons." I look at players' schedules (that is to say, "match-ups") and their skill sets against those match-ups. Frequently, I will select Player A over Player B, simply based on this system of study.
Behind the scenes: a brief look at my Flex Formula. It's science. And science is hard.
Again,
there are exceptions
. But let's stay focused, people!
After a gander at the running back and wide receiver lists, and after a number of mock drafts, I came up with a list of 18 players that could be targeted as potential "secret weapons" in 2014.
For the sake of humanity, I won't cover all 18 here (this is better suited over a beer or two around a campfire on a late summer evening). Instead, I will nominate the top 6 (in no particular order) and break it down...
[Editor's note: average draft position (ADP) is courtesy of fantasyfootballcalculator.com. It is assuming a standard scoring, 12 team league. Data is based on 1,192 mock drafts from August 18-19, 2014]
1) I had mentioned in my
overview of the Chargers
that
Danny Woodhead
's nickname should be "flex," because that's exactly where he should be used. Woodhead is a perfect example of a player that shouldn't be in your line-up on a consistent weekly basis (because you would, you know, not win too many games), but in an ideal match-up, he can put your fantasy squad over the top.
Donald Brown
may take some carries away, but it is extremely doubtful that
Ryan Mathews
stays healthy all 16 games again this season (hey, he's earned his reputation), making
Woodhead, with an ADP of 8.10, an excellent flex option again this season.
2) So far this preseason,
Hakeem Nicks
has looked like his vintage self, and that's a good thing. I remain cautiously optimistic that he will continue this trend into the regular season. He will be behind
Reggie Wayne
and
T.Y. Hilton
in Indianapolis, but
Andrew Luck
is capable of spreading the ball around like peanut butter. Nicks's ADP is 10.03; he's a player you won't have to reach for, but could easily put up WR2 kind of numbers in a flex position.
3) He gets virtually
no
attention from the media (i.e. ESPN) and therefore not much respect from fantasy owners, but
Brian Hartline
is an excellent flex player. He's overshadowed by Big Money
Mike Wallace
and all eyes are on rookie
Jarvis Landry
(second round) this preseason, but Hartline has proven to be
Ryan Tannehill
's favorite target over the last two seasons (265 targets, 150 receptions). Hartline's ADP is a head-shakingly disrespectful 14.02, especially for a player who had over 1,000 yards receiving last year, so draft him late and plug him in as a excellent flex option.
4)
Terrance Williams
is the definitive #2 wide receiver in Dallas this season, and starting opposite
Dez Bryant
will have its benefits. Last season Williams was just starting to register on the fantasy radar, with four games over 70 yards receiving and five touchdowns. His play was not consistent, but it was promising, and more time on the field will equal more opportunity. He ended last season with 44 receptions on 74 targets and those totals could go up by 50%. His ADP is late 7th round (7.11) and some fantasy owners may be tempted to take him as a WR2 on their rosters. I think he's better suited in a flex spot.
5) I am looking forward to seeing how Chip Kelly uses
Darren Sproles
in the Eagles fast paced offense once the regular season starts. Sproles is a modern day
Eric Metcalf
; he won't blast through holes at the line of scrimmage, but he can kill you catching the pig out of the backfield. Many are putting a bow on Sproles's career (this is his ninth season and he's 31 years-old), but my gut feeling tells me he's in for a special season in his new uniform. His ADP is 7.12, which makes him low-risk, high reward as a nasty flex option.
6)
Joique Bell
might be the best flex option in all of fantasy football this season. Reports out of Detroit say that Bell and
Reggie Bush
may split carries 50/50; Bush gets all the attention, but Bell is equally adept at running and catching the ball. Quite honestly, they might be the most dangerous duo out of the backfield this side of
McCoy
/Sproles. Bell's current ADP 5.06, which is getting more in the range of a RB2, but if your roster is deep enough to make him a flex play, you are in excellent shape. Either way, I would like him on my squad.
Coming soon... Rankings, Sleepers, Busts and more...